New Milton Town Council is pleased to announce its support of the Royal British Legion Hampshire & Isle of Wight Silent Soldier campaign and another way of paying respect to those who gave so much during World War I in this centenary anniversary of the end of the Great War.
The Silent Soldiers are life-size silhouettes that will stand in symbolic tribute at locations to be agreed around the town. They will be present in the community during November and December 2018 as a representation of "Tommy" returning home silently at the end of the war, and to remember those that lost their lives and never returned home. We are keen for local groups and organisations to support this campaign and join the nation in this poignant tribute to lives lost.
Silhouettes can be sponsored by companies, local organisations and individuals at £250 each.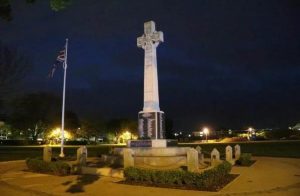 Photo credit to Michael Angus
New Milton Town Mayor, Cllr David Rice-Mundy said;
"The Silent Soldier is an initiative set up by the Royal British Legion which plans to mark the sacrifice of those who fell in the four war years leading up to the Armistice in November 1918, with silhouettes of soldiers in our streets in November 2018."
The Town is holding its annual Remembrance Day Parade and Wreath-laying ceremony on Sunday 11 November 2018 at the War Memorial Recreation Ground, which is always well-attended come rain or shine, followed by a Remembrance Service in New Milton Memorial Hall.
New Milton Town Clerk, Graham Flexman, said;
"Silent Soldiers will appear on buildings, in gardens of remembrance, at roundabouts and entrances to the town. Companies and individuals can join the Nation in remembrance by sponsoring a Silent Soldier in our town."
In the evening of 11 November 2018 the town's residents will join the Nation in celebrating the "Battle's Over" event with lighting of beacons across the country including one at Barton clifftop with entertainment for all being arranged by the town's working party and further details will be publicised later in the year.
Contact Graham Flexman, Town Clerk
New Milton Town Council tel 01425 619120
13 February 2018