News Release
Community Comes Together for Civic Service
New Milton Baptist Church was the venue for New Milton's Annual Civic Service on Sunday 10 March, with over 150 members of the community joining together giving thanks to the many selfless volunteers in our community, civil servants and all those committed to public duty.
The service was conducted by Reverend James Gilbert and he welcomed the Town Mayor of New Milton, Cllr David Rice-Mundy and the Mayoress Mrs Susie Rice-Mundy, as well as the civic party of local councillors and dignitaries, being greeted by the New Milton Army Cadets smartly forming a guard of honour with standard bearers at the entrance to the church.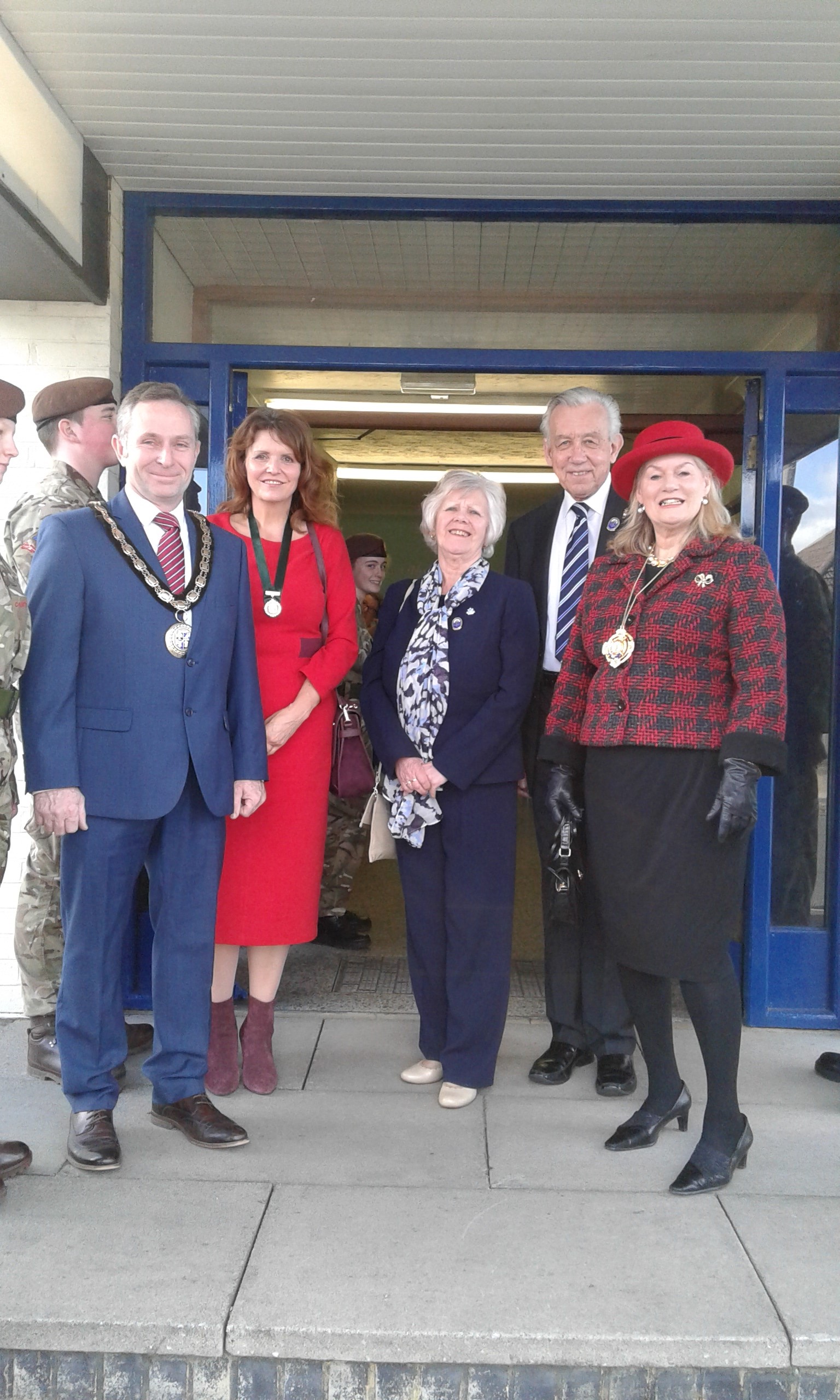 Pictured – Cllr David Rice-Mundy and Mrs Susie Rice-Mundy, with Cllrs Sue and Robin Cook
from Wimborne Town Council, and Christchurch Mayor, Cllr Mrs Lesley Dedman.
Amongst the congregation were former New Milton Citizens of the Year, New Milton Police PCSO's, representatives from the Mayor's nominated charities Scarf New Forest and New Forest Young Carers, New Milton Sands WI and students from Arnewood School.
The Fortune Centre of Riding Therapy were represented by their choir, with 20 students giving their first public performance, and were given a resounding applause for their magnificent performance.
New Milton Sands WI provided refreshments in the church hall after the service. Jackie Alvey, their Chairperson, provided a reading at the Service, a beautiful poem entitled Spring-time.
As well as the Mayor, Cllr Keith Craze of New Milton Town Council and Cllr Barry Rickman, Leader of New Forest District Council gave bible readings. A musical interlude was provided by Maria Rice-Mundy and the Reverend Andrew Bailey from St Mary Magdalene Parish Church, and Reverend Martin Keenan from BOS Methodist Church also contributed presenting their messages of belief to the gathered congregation.
The retiring collection yielded £286, a generous sum that the Mayor will be pleased to share equally between his chosen charities.
End
12 March 2019
Further details from New Milton Town Council
Tel: 01425 619120