The New Milton Citizen of the Year Award 2019 was presented to a very worthy winner, Bev Scott-Johns, for his long-term service to the sport of table tennis and particularly his long-term commitment as a volunteer at New Milton Table Tennis Club.  Bev has been a volunteer for over 30 years supporting its membership, a successful and multi-ability club, with the youngest being 10 years old and the oldest 80 years young.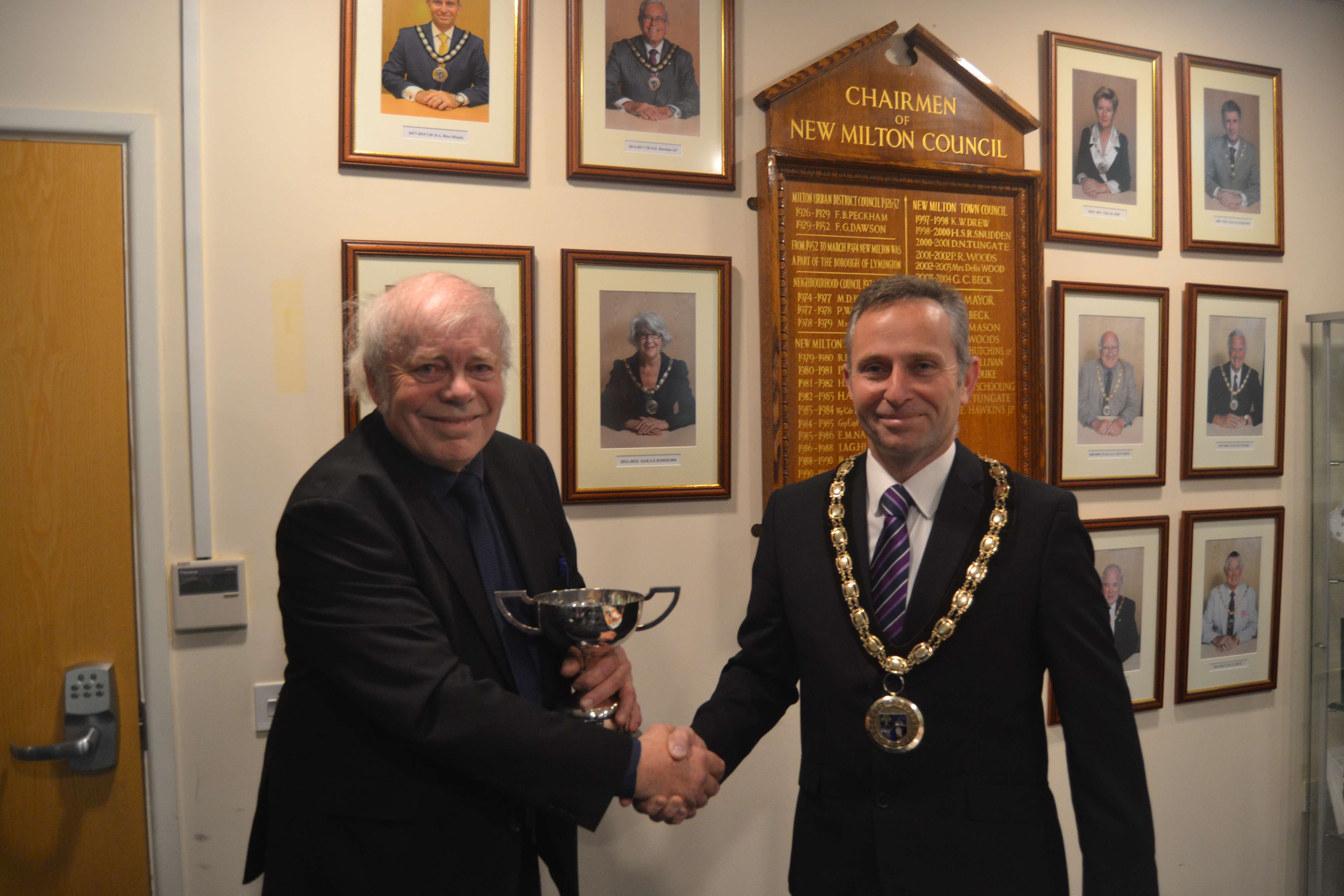 The Town Mayor, Cllr David Rice-Mundy was delighted to present the award to Bev at the recent Annual Towns Meeting which was well attended by 60 members of the public and supporters of the Citizen of the Year Award.
The Mayor received a variety of nominations from the community for many worthy residents who are the unsung heroes in our town and choosing an ultimate winner was a difficult task.
Special commendation was awarded to four school friends who organise and host fund-raising activities in aid of local charities, namely John Devlin, Noah Andrew, Seth Woodcraft and Alex Brash.  In February this year they raised over £1000 for Scarf New Forest by arranging a football match and quiz night and the Mayor applauded their continued efforts.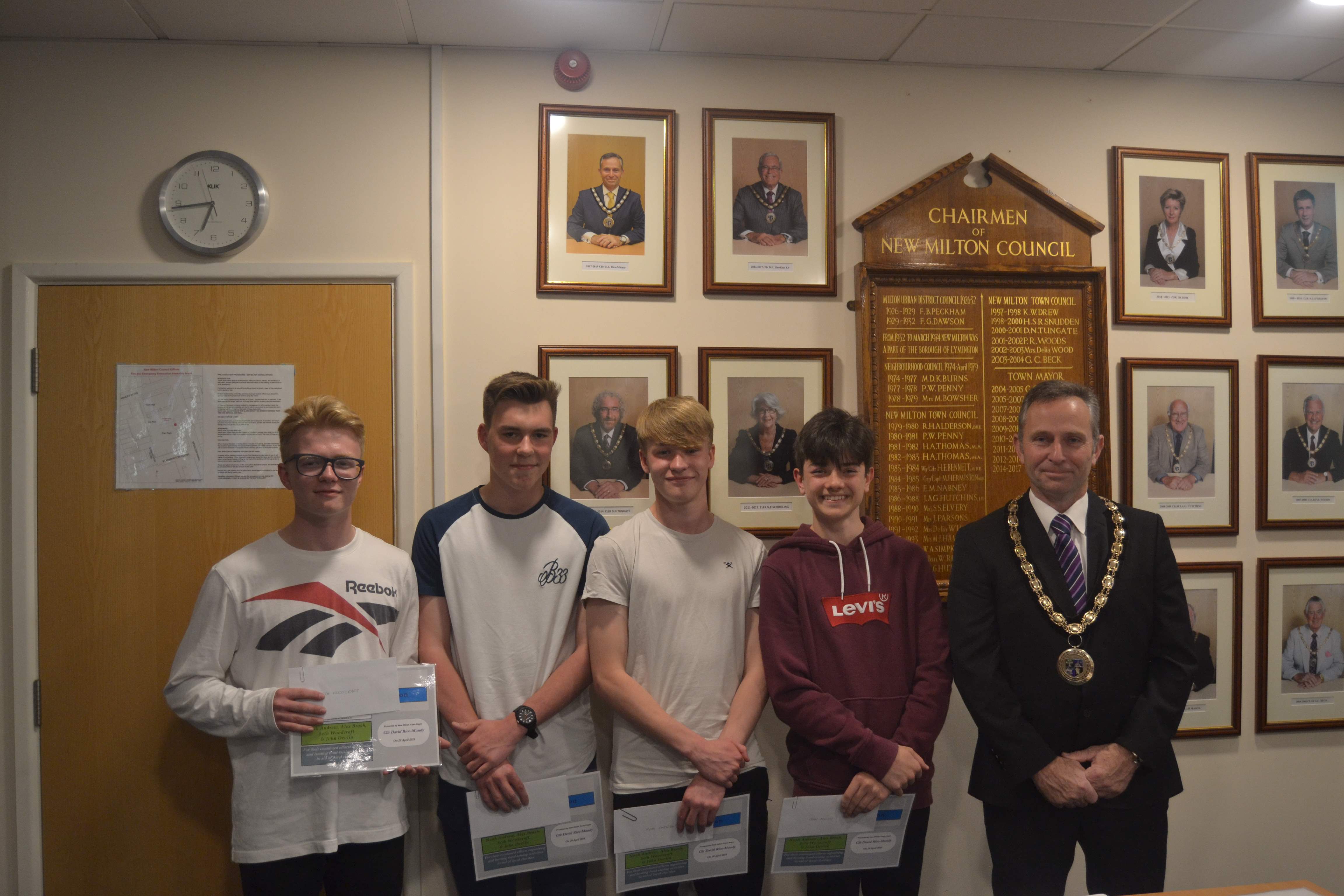 Mrs Phyllis Inglis BEM is well-known and well-respected in New Milton for her contributions to the town, working tirelessly for many years with the New Milton Residents Association, ongoing involvement with the Royal British Legion and New Milton Community Association, to name just two of the groups she is still associated with.
The Mayor awarded a Special Accolade of Gratitude to Mrs Inglis in recognition of her long and loyal service to the local community of New Milton.
In accepting the award, Phyllis recounted how her mother told her that "If she wanted get on in life, then she had to make herself useful."  Phyllis concluded by saying "I hope to continue to be useful for many years to come."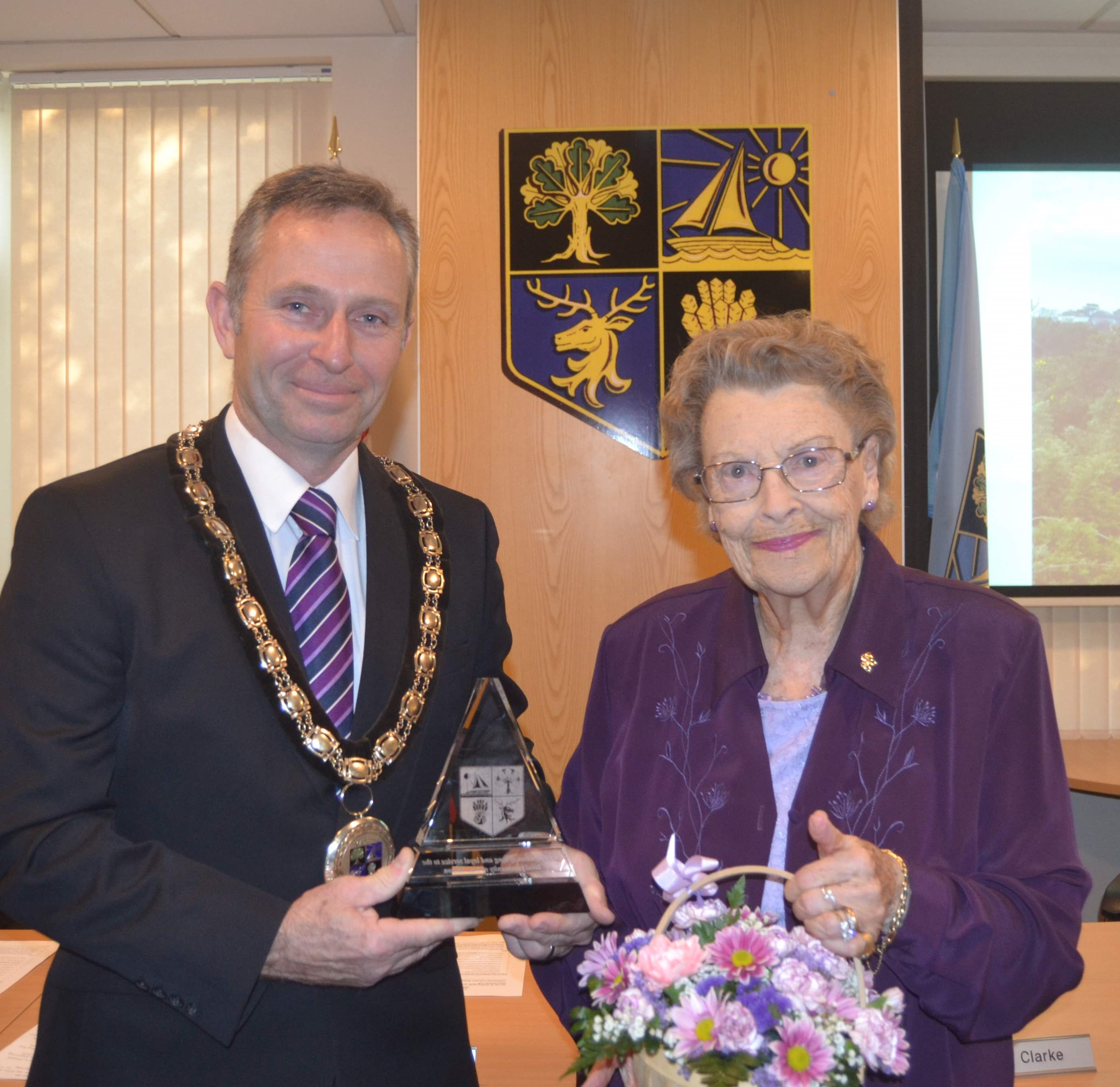 Scarf New Forest and New Forest Young Carers were again the Mayor's nominated charities for his second term of office, during which time the Annual Carol Service, Annual Civic Service and Mayor's Charity Ball were held and funds of £1200 were raised for these incredible charities.
Following on from the awards and presentations, and annual reports from the Chairmen of the Standing Committees, the guest speaker was introduced, Keith Betton, Chairman and County Recorder of the Hampshire Ornithological Society.
Keith's illustrated presentation centered on the Return of the Peregrine Falcon and provided facts and figures about this immensely powerful avian predator and referenced the pair of nesting Peregrine Falcons that have made the Water Tower their home over the last 3 years, so far successfully fledging 6 young Peregrines.  We'll see what this year brings.
—end—
Contact New Milton Town Council 01425 619120
2 May 2019