The Town Council welcomed judges Matt Wakefield and Susan Smith to our wonderful town on Tuesday 9 July for the judging of South & South East in Bloom 2019, taking them on a tour that began with a visit to the Community Centre garden where they were greeted  by Marie Morgan and finishing at the Indian Memorial along the clifftop at Barton on Sea.
Following a planned circuit around the Town, the judges, along with Graham Flexman, Town Clerk, Cllr Geoff Blunden, Chairman of the Amenities Committee and Mark Jeffries, Estates & Facilities Manager, then arrived at the Recreation Ground where the New Milton Residents Association (NMRA), members of the New Milton Men's Shed and students from Arnewood School were there to welcome them.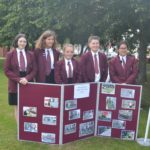 The Arnewood Garden Club were proud to present their hard work, with a board showing the array of flowers and shrubs they are in the process of planting at their school with rose bushes ready to be introduced soon. One student shared their concerns for the plants over the summer holidays, ensuring someone would be able to water them once a week until they return in September.
https://www.arnewood.hants.sch.uk/garden-project/
Alan Watson and Angela Jackson were on hand to tell the judges about the support provided by the local Residents' Association, and Men's Shed presented a portfolio of works on recent projects undertaken by their enthusiastic volunteers based at New Milton cricket club. The judges then visited Forest Arts to admire their impressive, newly decorated entrance fresco.
The judges then went to Chaucombe Green to meet pupils from New Milton Junior School gardening Club and look at the planting they carried out. Judges were shown the Information Board there and met New Milton Sands WI who have replanted the wall in front of the arcade of shops next to Old Milton Green. On the cliff top, Barton Bees WI were on hand at the Indian Memorial to show judges their handy work in maintaining the planted areas there.
Contact Graham Flexman, Town Clerk, New Milton Town Council
–End–   Friday 12th July 2019