For most of us, this is a special time of year with celebrations and festivities taking place, and by the time you read this, the town will have enjoyed the 15th year of the outstanding New Milton Christmas Festival and be dazzled by the Christmas lights being ceremoniously switched on by the Young People & Group of the Year.
For some of us, this time of year can be emotionally fraught and challenging, or sad and poignant, or just too much to deal with financially.  This coming month and into the new year will mean many things to different people, and we should be looking out for each other whatever our culture, religion, background, or beliefs.
As we look forward to the new year, it's always nice to reflect on some of the wonderful events and projects we've participated in and enjoyed during 2019 in New Milton.  I'll mention a few but there are so many occasions, there are too many to include, most brought to us by amazing volunteers and dedicated doers.
The Lions Club It's a Knockout competition held on a hot day in May proved to be a very competitive affair, with various local teams battling it out on the Recreation Ground, with families cheering them on.  I really enjoy these family fun days run by the community for the community.  A right champion day.
With the Recreation Ground being in the centre of our town everyone was able to enjoy the Summer Afternoons of Music including performances from We are Robot, everyone's favourite band, and then the Caribbean rhythms courtesy of Antigua Joe and Jorge Eversley which was a winning combination, and the Coda Swing Sounds Band featuring Miss Sara Harris, which was perfect for our end of season performances.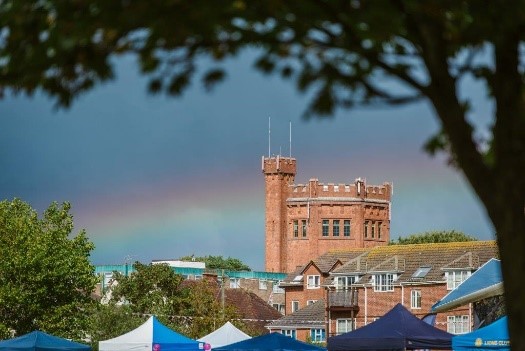 In August, it looked like rain stopped play for the Youth Music & Cultural Festival but the event was saved as it condensed nicely into the Memorial Centre, and was another fabulous event featuring local young people singing, dancing, playing music, being creative and coming together to share their talents.   This well supported and attended event shows what an amazing bunch of young people we have in New Milton.
Encouraging young horticulturalists was the mission for the Becton & District Rotary Club who worked with New Milton Infants School on the Eco-greenhouse project, supplying a greenhouse made from unwanted plastic bottles, as well as planting and maintaining flowers and vegetables in the school grounds.  A great project indeed for our little people.
Which brings me nicely on to Britain in Bloom, we are all so very proud of our town achieving Gold status in the national competition and being awarded Silver Gilt in the regionals.  This was truly a team effort with schools, businesses, residents, charities, community groups, coming together with our outstanding Estates Team to present New Milton as a beautiful and stunning town in all its glory throughout the year.
Spring and Summer into Autumn we can see the amazing floral displays and then during December we have the lights fantastic along Station Road.  All achieved by the community and Town Council working together to show off our incredible town.
New Milton hosted its last Pedal Car Grand Prix this year, a much-loved and much-anticipated biennial event, it will be missed in the town.  Thank you to the New Milton Jubilee Fund Committee for running this event in the last few years.
We have two big community events to look forward to next year, the Victory in Europe 75th anniversary event taking place on Barton Cliff top on Bank Holiday Friday 8 May 2020, and the Victory in Japan 75th anniversary on 15 August taking place on the Recreation Ground, both being organised by a very willing and able steering committee.  Watch out for posters and adverts in the new year.
We are so lucky to have so many other smaller groups and charities, providing guidance, friendship and pulling together the community.  If you have time to spare and want to share the feel-good factor, then please consider joining up and give back a little to those in need.
…….If we all do a little collectively, we can achieve a lot…….
My nominated charity this year is Ashley Family Hub, an outstanding group of people offering a friendly welcome for families to meet, chat and get advice every Tuesday 9-11am at Ashley Baptist Church.  Their mission is to build positive and lasting relationships with local families.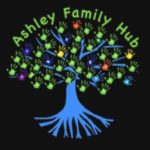 Families being the foundation of our society. https://www.ashleyfamilyhub.co.uk/
If you want to support this worthwhile charity you could bag up your spare change "collect coppers for charity".
All donations gratefully received!
On behalf of myself, my consort Finley (pictured), the members and officers of New Milton Town Council, I would like to offer sincere greetings to all our residents and to wish you the very best for a special new year.
Cllr Alvin Reid
Town Mayor
New Milton Town Council