This year has been difficult for all of us in New Milton due to the Covid pandemic and the resultant restrictions. Events have been cancelled or postponed, many enduring events that we look forward to every year, even the Acts of Remembrance at the Memorial Clock in August and at the Indian Memorial in July. Sadly, the Christmas festival will not take place this year.
The Town Council and the Royal British Legion New Milton Branch know how important Remembrance Sunday and Armistice Day are to the New Milton community.
We will remember them is always said with deep feeling and sincerity in New Milton, as over the years the community has loyally come together in their hundreds to support the Annual Remembrance Sunday ceremonies. Whatever the weather, the community always support the Town's Act of Remembrance.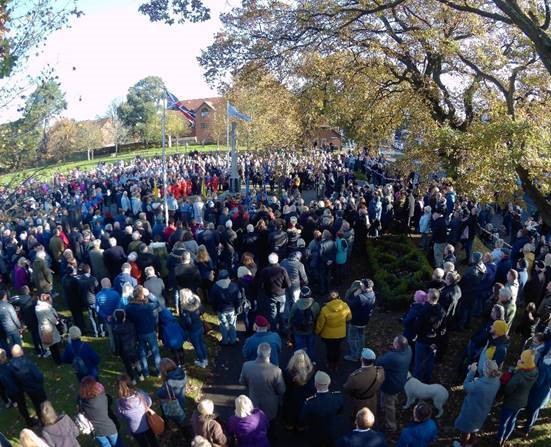 Photo credit to Michael Angus from previous year
The Marching Band leads the well-represented parade through New Milton to the War Memorial on the Recreation Ground. A parade bursting with respect and attended by many children, service charities, the Army Cadets, community groups, councillors, the Royal British Legion, veterans, and civilians all marching with pride.
This year there will be no Marching Band, no Parade, and no Service of Remembrance at the Memorial Centre, but we are planning a short Act of Remembrance at the War Memorial. At 11 am there will be 2 minutes silence, Last Post, Exhortation, Reveille and Kohima. The Mayor and the President of the British Legion will lay wreaths at the War Memorial and will disperse quickly thereafter.
The Town Clerk, Graham Flexman, said : "This isn't an arranged event this year, but we understand the community want to pay their respects. We have to give serious consideration to the public's health and safety at this time. The wreath-laying will be done in a Covid-managed way and a risk assessment has been completed".
He continued: "If members of the public choose to come to the War Memorial on Remembrance Sunday, we ask that they adhere to the Covid guidance. Wear a mask and make space for others around you. Please do not gather socially. And leave the area quickly and safely".
Further details on how you can support the Royal British Legion can be found here https://www.britishlegion.org.uk/get-involved/remembrance
New Milton Town Council
Circulation – 13 October 2020
—end—