PRESS RELEASE
New Milton Town Council and Conservation Connection New Forest South have joined forces to create a pollinator-friendly habitat in support of the New Forest Big Bee Rescue campaign.
An area of mixed grassland at the entrance to the Fawcetts Field Sports Ground has been turned over to Conservation Connection volunteers who have sown a native wildflower mix comprising 70% grasses and 30% native annual and perennial wildflowers.  Having access to a borehole at Fawcetts Field allows for ease of watering when rain is in short supply.
Assisting in the seed-sowing effort, New Milton Town Council Cllr Geoff Blunden, Chairman of the Amenities Committee said, "Protecting and caring for our environment is a top priority for New Milton Town Council. Therefore, I am delighted that we have been able to provide this area of land at Fawcetts Fields for wildflowers to support the New Forest Big Bee Rescue project.  I look forward in the late summer, enjoying the flowers in full bloom attracting an abundance of wildlife, particularly the bees and butterflies.  A big thank you to Conservation Connection and all those who have so enthusiastically supported the project."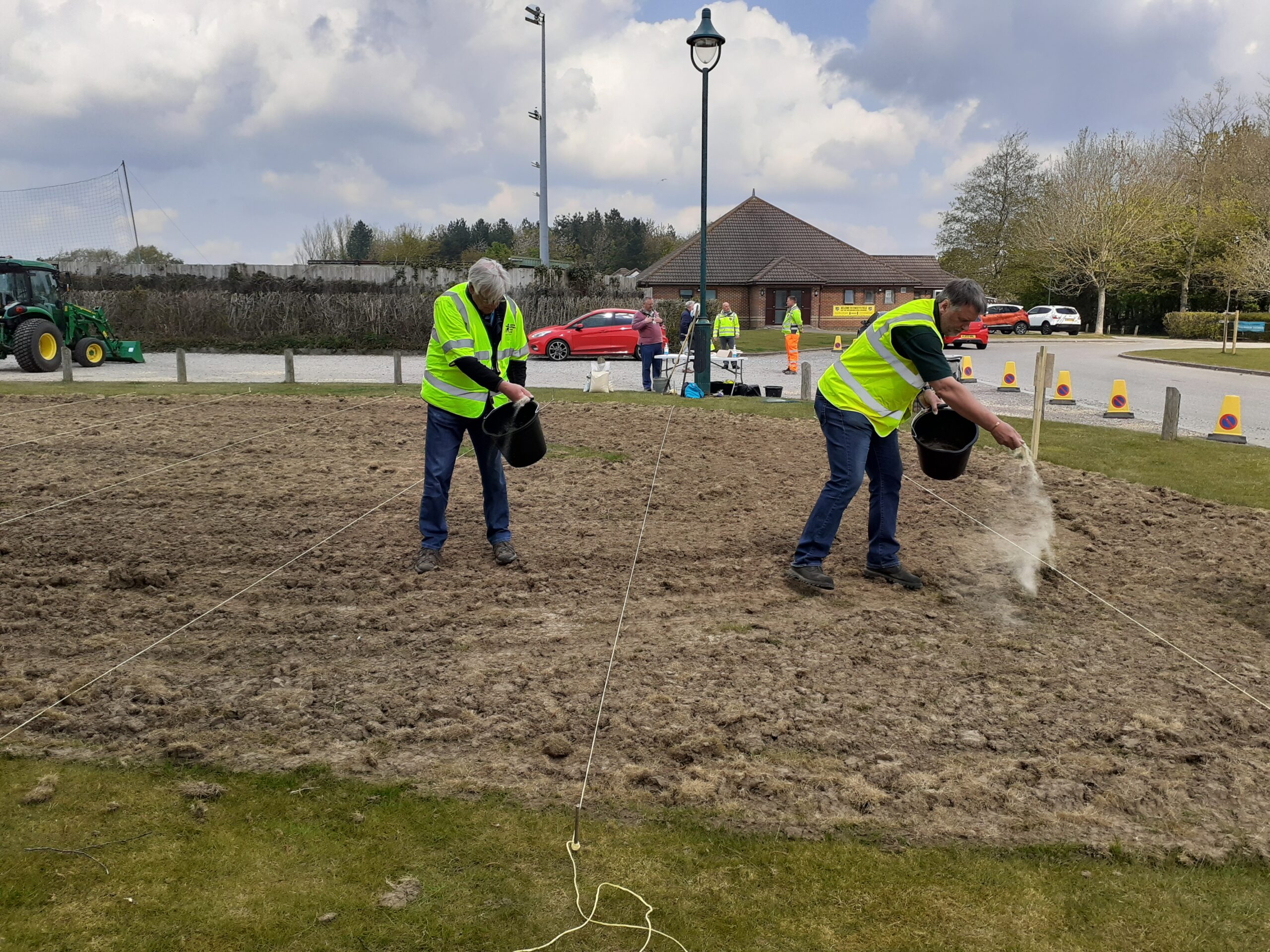 Conservation Connection New Forest South are an assemblage of conservation and environmentally friendly residents, specialists, and local councils and organisations, coming together to share information on conservation issues and raise awareness. Their New Forest Big Bee Rescue launched on 19 February 2021.  Further details are available on their website https://conservationconnectionnfs.org.uk
HCC Cllr Fran Carpenter, Chair of Conservation Connection said, "Our conservation volunteers and experts, particularly Bob Lord of Ballard Water Meadow, have worked so hard together to get this collaborative project off the ground. We are hugely grateful to New Milton Town Council for the land for planting and we hope to replicate that elsewhere. But we also want residents to do their bit, in their own garden or outdoor space, however small, to create bee-friendly habitat to house and feed our buzzy friends! There is lots of advice in our website's Bee-Friendly Blogs."
New Milton is renowned for its annual displays of blooming wildflowers, attracting many bees and pollinators, and delighting residents and visitors.  This year new areas have been prepared along Caird Avenue, Bashley Roundabout, Ashley Road and Fawcetts Field, resulting in a total area of 4,500m2 to tempt the bees and aid the New Forest Big Bee Rescue.